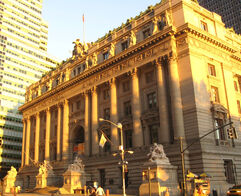 Alexander Hamilton U.S. Custom House
General information
| | |
| --- | --- |
| Alternative name(s) | Headquarters of the Department of Magical Criminal Investigations |
| | |
| --- | --- |
| Inhabited by Wizardry or Folk? | Both, with the Folk running a Native American museum and a bankruptcy office, and the Wizardry running the DMCI |
| | |
| --- | --- |
| Position | The headquarters of the DMCI |
| | |
| --- | --- |
| Status | In use and maintained |
Physical information
Government
| | |
| --- | --- |
| Currency | American dollars |
Chronological information
Location on map
Lua error in Module:Mapframe at line 597: attempt to index field 'wikibase' (a nil value).
The Alexander Hamilton U.S. Custom House is a large square neo-classical Beaux Arts building located at the tip of the Manhattan island on 1 Bowling Green and Broadway in New York City. It was built in 1901-1907 by the architects Cass Gilbert and Daniel Chester French. The building is seven storys high and steel-framed, and in front of it four monumental female limestone sculptures representing America, Asia, Europe and Africa is situated, symbolizing the belief from 16th century Europe that there are only four continents in the world. The sculptures are known as the "Four Corners of the World." The building used to house the United States Customs Service, which was an agency of the U.S. federal government that collected import tariffs and performed other selected border security duties.
The Department of Magical Criminal Investigations (DMCI) is secretly headquartered inside the Alexander Hamilton U.S. Custom House.[1][2]
History
The Secret Society of Seven Sorcerers
Appearances
The Salem Concord
Scribl.com audiobooks
Main article: Scribl audiobooks
References
External links
Alexander Hamilton U.S. Custom House at Wikipedia
Alexander Hamilton U.S. Custom House at Google Maps